M.S. Domingo Law Group, P.C.
Solutions with Professional Care
Welcome to M.S. Domingo Law Group, P.C.!
At M.S. Domingo Law Group, P.C., your needs are our top priority. We are dedicated to providing you with outstanding service, personalized legal advice and practical solutions to protect your family, your finances and your business.
With extensive knowledge of substantive and procedural aspects of the law, strong oral and written analytical skills and superior interpersonal skills, M.S. Domingo Law Group, P.C. will work diligently to achieve the best possible outcome for you.  Our mission is to protect our clients' rights and ensure all legal needs are met with the highest quality and personal service. Integrity, passion, and zealous advocacy are the cornerstone of our practice.
M.S. Domingo Law Group, P.C. is dedicated to fostering, cultivating and preserving a culture of diversity and inclusion in the workplace. We ensure that our attorneys, legal assistants, employees and job applicants are given equal opportunity and are respected and valued. We provide equality and fairness to every individual regardless of age, race, ethnic origin, nationality, disability, gender reassignment, religion or belief, marriage and civil partnership, or sex and sexual orientation.
Walnut Creek Office
1501 N. Broadway, Suite 260
Walnut Creek, CA 94596

Walnut Creek Office:
(925) 891-5006

Fax: (925) 940-9658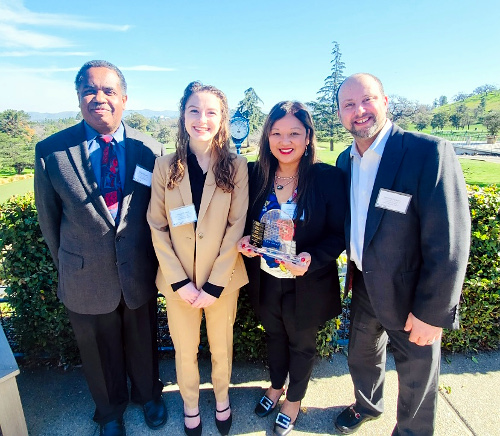 Mika Domingo is an experienced trust and estates attorney, with a passion for helping others. She is a former Deputy Attorney General with the U.S. Department of Justice, and has appeared at state, appellate, and federal courts. She has seen first-hand the financial and emotional damage that occurs to families when end-of-life decisions aren't clear, when estate disputes occur, and when an estate is thrown into probate.
Read more…
PROBATE AND TRUST LITIGATION
Mika Domingo is an experienced trust and estates trial lawyer with a passion for helping others. She is your trusted advisor as you go through a challenging time in your life.
Mika is extremely experienced in the courtroom, having served as Deputy Attorney General with the U.S. Department of Justice. She is a strong and effective advocate for her clients in the courtroom as well as in negotiations. She has appeared at the state, appellate, and federal courts.
Read more…
Probate is the court supervised process in which the assets of the deceased are distributed to beneficiaries according to a will, if there is a will, and the bills are paid. If there is no will, the court makes decisions as to who is entitled to the assets of the deceased according to "intestate succession."
Under California law, without a will, any assets you possess at the time of your death pass down to heirs or certain class members by intestate succession statutes (with some exceptions such as payable-on-death accounts or assets held in joint tenancy with right of survivorship) to allow for an organized and methodical way of distributing your assets.
Read more…
Serving as a trustee is difficult and time-consuming. It also carries risks to the trustee: a trustee can be sued for failure to carry out the instructions of the trust (which are not always easy to understand).
If you have been named as a trustee, you should consult with an experienced attorney right away. We can help you understand your responsibilities and to efficiently administer the trust by working closely with you and your advisors, including your financial advisor, accountant, and other trusted advisors.
Read more…
Promoting dignity and respect for everyone

Not tolerating any form of bullying, harassment or discrimination

Encouraging anyone who feels they have been subject to any intimidation, harassment, or discrimination to

come forward

Communicating our policy of equality and inclusion to all stakeholders
Use the form below to contact us regarding your legal inquiry. Please be as detailed as possible. Include your industry along with any specific document requests. To help us best service your inquiry, we recommend that you first describe the issue you're having before telling us what you want to achieve. You may also email or call us to make an appointment.